It's a sign of growing maturity - at last - that when press-ganged into working in high 30 degree temperatures across a weekend that ended in two Melbourne FC games on the same day I turned up instead of claiming that my Aunt Hortense was dead and staying home to watch. Once, in a time before wall-to-wall coverage of practice matches, I'd have almost certainly not only chucked a sickie but gone to Shepparton and risked being seen on the coverage alive and well. Welcome to mid-life crisis era Demonblog.
The original plan was to avoid scores of either the men's or women's (report to follow) games, and watch when I returned from the other side of regional Victoria on Sunday night. After two and half days in the heat on barely any sleep I lost faith in part of the process about an hour before the AFLW game and unsuccessfully tried to palm it off to a guest reporter. Then after driving home through levels of traffic that would frustrate somebody from Beijing, I arrived home feeling like I'd just escaped being held hostage by Hezbollah and couldn't bring myself to do anything other than sleep.
I'd have powered through if premiership points were on offer, but for a practice match I could prioritise sleep. At least until about 6am when crunts started reversing trucks up and down the street. It wasn't until about 9.30 when I finally conceded that there was no more rest to be had, and that the only thing likely to wake me up was another year of no idea what JLT do or how I'm supposed to take advantage of their services.
The last time I woke up this close to watching a match was
Round 9, 2006
I got up at 4.39 for a 4.40pm bounce, then in celebration of Chris Johnson getting four votes stayed up all night before going to work at 5am, driving to Altona Beach to fill in the time and seeing this daubed across a fence: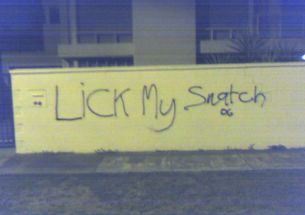 But enough about me, there was pre-season football to be had. Albeit without about 10 first choice players. Other than Lever and May, missing from those golden September nights (yes coma victims, we have quite recently won finals) were Gawn, Hannan, Hibberd, Jetta, Jones, Lewis, Melksham, Tyson (can't help you there), vandenBerg and Viney. Reasonable outs. Not that Richmond were at full strength either, but they had enough of the highest tier big guns that you might have gotten a bit silly and started thinking these games meant something had we carried on for the last three quarters like the first.
We weren't entirely without quality, led for the first time by Tom McDonald, who couldn't play AFLX a week earlier because he needed surgery but had already recovered in time to play the first of two pre-season games. They might have left him until the second week of the 'series' to make it look a little less cynical. He kicked two goals but risked re-injuring his whatever by kicking shit in frustration at being jumped on and/or over by multiple Richmond defenders.
Captain McSizzle led the team out in the always welcome disco jumper, but as pretty as the Jaguar logo is it looked well out of place on that razzle dazzle jumper. We should have signed them for the classy version of our jumper and SHAGGIN' WAGON for this one.
I think the last time I went through a practice match without being there, watching on TV or listening on the radio is when Liam Jurrah blew his shoulder on some suburban Adelaide gravel pit so I remain grateful as always that these games are broadcast. There was even the unusual scenario of Dermott Brereton seemingly being helpful, providing the interesting stat that Braydon Preuss is the third heaviest senior player ever to play the game. It was implied that this was in a good, man-mountain way, then he spent the first half puffed out and most of the second sitting on the bench. In an attempt to find who the two bulkier players were I discovered
this
, which suggests he's only the equal sixth biggest on an AFL list this year so maybe DERM was talking from his ringpiece after all.
According to my limited research, this was the first time we'd ever played at Deakin Reserve, after a previous appearance at the Shepparton East Football Ground for a 138-153 thriller against the Saints
in 1987
. Other local practice matches include a nine goal thrashing by Geelong
in 1980
, similar from North in Tatura
in 1982
, and the Ox doing his knee
in Albury
. Comparatively, returning to the city with a 12 point loss and one minor injury was almost like a win.
The locals rolled out the barrel for this event, parking an ad on the camera side promoting Shepparton as a 'Sporting Event Capital', which was ably demonstrated by a) the sponsor SAND AND GRAVEL, and b) a low brick wall around most of the boundary that opened the prospect of somebody fracturing his skull. In the bits where the wall ended there was a giant gap between advertising hoarding and ground that somebody decided was a good place to let kids sit. Now that they've all survived I'm comfortable with the idea of letting them get up close and personal with real life footy players, but had one of them slid across the line at the wrong angle the kids would have been decimated. An especially serious concern with the alleged third heaviest player since 1897 getting around.
It was our first serious chance to see the latest set of new rules in action, and I know they were softening us up for these ones by floating some real bullshit ideas but the initial reaction was a big fat "meh". Which is about as good as you're going to get from significant changes to the way the game is officiated. The 6-6-6 definitely generated a few opportunities out of the middle but was otherwise inoffensive (except when they stopped the game and issued the teams a stern warning for getting it wrong), and the players cannoning out of the square to play on looked stupid but had no real negative impact.
There's nothing better after a rule change than people declaring it to be a success after five minutes, only for coaches to work out how to negate it by about Round 8, and if the intention of these ones is to increase scoring (and it is) then there would have been a few nervous corporate wankers early. In the first five minutes we conceded the only score, as one wonky holding the ball decision led to Oscar McDonald being thrashed into the post while trying to rush a behind artistically. This was the cue for the scoring to commence in earnest, with Billy Stretch opening the season half-proper (well, more proper than that Collingwood scratch match anyway) by marking a clever Petracca kick at the top of the 50. There was a McDonald involved in this one too, with Stretch burning a perfect McSizzle lead with Napalm before saving himself from the wrath of his temporary captain by converting.
At the other end our defence had a bash, but without Hibberd or Jetta from our finals team there was a distinct lack of poise. Richmond's opening goal was one of several they got from within 10 minutes, and was arguably the fault of the defenders for letting a ball hit the deck unchallenged, but more crucially down to Jack Higgins flying through a crowd to soccer it with no regard for his personal safety. If somebody is willing to die to kick a goal I'll concede without argument.
Our next goal also featured Tom McDonald, this time the subject of a doubling teaming usually only seen in adult features, which allowed Joel Smith to float in and mark. His first foray as a forward against West Coast only came after we'd given up the ghost, but this implied much potential as a medium sized goalkicker. At the moment all the focus is on the talls, including Weideman taking his role as a second ruckman in Gawn's absence seriously but setting up the forward thrust that allowed Sizzle to snatch an intercept handball and snap his first. The debate about whether we should have kept Hogan will go longer than Nic Nat vs Watts (knee injury vs needs tits), but the value I see in McDonald compared to Hogan is that he's better at creating goals out of nothing as well as via the traditional methods.
In trying to avoid all spoilers, or even hints to progress scores, on Sunday afternoon the one time I nearly tripped myself up was when delirious from the heat I flipped open Twitter on my phone and saw one tweet praising Oliver for doing something jaw-droppingly delightful. I've gone back and compared the times and think it can only be this moment, where he was lifted in the air but still managed to find a handball target.
— Ethan (@ethan_meldrum) March 3, 2019
While our period of domination confirmed that Petracca still can't kick set shots for shit, we were reminded that Weideman can, from a mark that fell right into what Gorilla Monsoon would have referred to as his breadbasket. He wasn't spectacular but he did his job, as did most of the forwards without anyone doing anything truly spectacular. The next came from Joel Smith again, after Trent Cotchin gave away a free in the middle, paid his frustration with a 50 for toppling Brayshaw, then walking off the ground in disgust stuffing his mouthguard up his shorts despite the sweaty conditions. At least it was his own plum sweat he'd be consuming later. Waste not, want not.
As I discovered last year when Hawthorn was punting our heads in, watching on tape is fraught with danger because you're always tempted to fast forward when things don't go your way. But other than the dramatic walk out just before our belated comeback against St Kilda I always stay true to watching the game play out in real time. The breaks can get stuffed, this time I had two games to watch and two reviews to write so there was stuff all time for filler content.
The only thing I stopped for was Roos interviewing Goodwin, and even then the only interest was hearing about a former gambling addict being a keen investor in the stock market. I suppose if you can't entirely give up the into the thrills of making and losing money, then stocks force you to slow down and think about what you're doing instead of making $10k on Japanese baseball, then losing it five minutes on the Terang Open mixed doubles. As somebody who also has an addictive personality and has to work had to stuff all sorts of vices away I was left tapping my nose and saying "I know what this bloke is up to". But until he stops being able to coach footy what do I care?
We nearly made it to DemonTime with our four goal lead intact, before going to sleep and letting them kick 1.3 without getting the ball back over half way. In retrospect this was a hint to what was going to happen later, but for now we were making the most of opportunities and extended our lead with two more goals before the break. First Truck showed he can kick great goals as long as he's on the run by waltzing around a defender and sinking one from 50, then immediately out of the middle Garlett pushed his defender towards the dreaded brick wall and kicked a pearler from the pocket. Jeff then went on to completely fuck up his shoulder.
By the end of the quarter there was so much scoring that it's a surprise Gil and Steve Hocking didn't drive across the ground in a hovercraft. We could even afford to concede the last when Dustin Martin played his celebrity card and was allowed to slap Harmes twice around the chops by an umpire standing metres away.
Leading by 22 points against an unruly mixture of premiership players and randoms wasn't worth pausing to see how to buy North Melbourne Grand Final Breakfast tickets, but without 10 of our best players it seemed to confirm we'd beat the piss out of some lowly teams during the year. Whether it translates to playing Richmond when it matters, or indeed to mid-table strugglers Port Adelaide in Round 1 (and after the
last time
we opened the year against them at the 'G be on guard for a shambles) I don't know, but am confident that we'll wreak havoc on the St Kilda, Carlton and Gold Coast bracket.
The good times continued after the break, with Oliver doing his own version of 6-6-6 by winning the ball from the bounce, then charging forward to be the player who set up 2x AFLX premiership legend Bayley Fritsch (temporarily a forward again) for the eighth goal. Practice match in sweltering conditions or not, it was all getting a bit silly now. Richmond obviously realised this, because by half time they'd kicked five of the next six and were level.
We got away with the absence of Lever from an already edge of your seat backline in the second half of the year (at least until the prelim), but the defence was all over the shop here. There were decent signs from Petty and Hore, but you wouldn't trust this combination with your precious premiership points. Richmond took advantage of keeping the ball away from us to get the next three on a nominal breeze, cutting the margin back to single digits.
This was about the point where Preuss-mania screamed to a halt, struggling mightily when required to play first ruck on his own. It demonstrates more than ever that we're in more trouble than the early settlers in Maximum goes down. They should do good work as a duo, but Max's ability to go all day even when he looks like he's about to die is crucial to his success. Now that ruck duos are back in vogue I'd have rookie listed NEAFL Team of the Year player The Spencil again just in case - also to get him that life membership he was so cruelly denied by one season.
A temporary steadier came via the Oliver/Brayshaw magic duo creating an opportunity for Harmes, which he celebrated with a devil horned salute to heavy metal. Later it was suggested to be some AFLX gag, but let's have none of that spoiling the enjoyment of good, honest, legitimate footy. Harmes' finish was good, but it never happened with the Hamburglar having another sixth sense moment of creating a better outcome by changing his mind halfway through doing something. He is a freak, and his in-play brain patterns should be studied by the government.
Relief from the Tiger onslaught didn't last long as we conceded another goal from the goal line because nobody would rush it. At this stage I had to remind myself that pre-season games don't mean shit, and losing to the reigning minor premier would not automatically mean a dramatic plunge back down the ladder. Then the same mystery player who'd earlier roved his own marking contest to goal kick another, scores were level and I was swearing like a dockworker.
Didn't take long after the half for Richmond to get in front. The key difference was that in front of our goal Astbury and Rance were merrily chopping off attacks, while at the other end Riewoldt was marking ahead of Marty Hore. Nothing against Hore, but with respect to the 10 conceded by Steven May in his last start against Riewoldt, I'd much rather the all-new crisis-free Steven May doing that job by the next time we play them.
The close range goals kept coming, with Declan Keilty sent on for the second half and mysteriously used as a ruckman in a contest where the other bloke beat him all ends up at a forward pocket bounce and turned around to kick the easiest of goals. To his credit Keilty - just as I was searching for a paper bag to breathe into - went into the middle and delivered a perfect centre bounce tap. He went on to spend most of the second half rucking. To say they didn't like Preuss' performance would be an understatement. For a while I thought he'd gone off at half time, before he cropped up for this Greco Roman manouevre:
— Ethan (@ethan_meldrum) March 4, 2019
He was later seen sitting on a green Bunnings plastic chair looking like he was about to go on an armed rampage. In Shepparton who would notice?
We were officially into the death spiral when they first missed an absolute sitter from right in front, then crumbed another at close range to extend the margin to 14. At this stage I considered ringing my boss and thanking him for preventing me from driving three hours to stand in 36 degree heat and watch this. Our transition into the forward line had gone from effortless to horrible, and Richmond players were forming an orderly line and waiting for the ball to be kicked to them.
It took Dylan Grimes - who had turned up dressed like Rey Misterio Jr due to a facial injury - throwing a ridiculous handball across the face of goal to gift Maynard a tap-in for our first of the term. A second unexpectedly followed before the end when Weideman was on the end of the first 'out the back' goal for the season to cut the margin a more manageable 18. Then it became a less manageable 24 when they ran into another open goal with 41 seconds to play? In a tribute to great DemonTime disasters of the past we nearly let another one in with two seconds to play.
We were rooted, time to get as much out of the last quarter as possible and wave the cavalcade of missing players back in. To say I didn't expect a blockbusting comeback would be an understatement, and even less so when Richmond kicked a goal a minute in via having about 11 players standing free around goal. It looked like we'd given up, and so had Fox Sports, who acknowledged that it was practically a VFL game by switching to a count up clock. Soon that disappeared, came back showing 88:88 and went away again, only recovering to the traditional countdown method in the last few minutes. Some people think there should always be a count up clock, but when I die during a close finish let it be on your heads.
What looked like their sealer was instantly cancelled out via the unusual combination of ruck sensation Keilty's tap, and Corey Wagner's goal. This was an appropriate Kingsley-esque response to Maverick Weller going for a pre-season nomination at the other end.
As the sting went out of the game and everyone began to realise they only had a six day break until their next game, we got a couple in a row to nudge closer. McDonald got a goal from a downfield free to keep his spirits up after a day of persecution at the hands of Richmond's defence, then JFK banged through a set shot to bring it back to 18. When Oliver won a free, tried to play on, fell over, was tackled and somehow got a 50 everything was going our way again. Doubly so when the same umpire who'd been dudded into giving the first one tacked on a second and guaranteed the goal.
When Anal-Bullet cut the margin to seven and Tom Sparrow kicked a point I was left scrambling for the record books to see if we've ever had a draw in a pre-season game. Early indications suggest no, but next time I'm at a loose end I'll be doing a full investigation to confirm (Update -
1934 vs Sandhurst
). Not relevant anyway, because even as I found myself nervously chewing fingernail at our last chance of sharing the zero points, Richmond rebounded the other way and sealed it.
Life goes on. I'd say bring me the shit teams, but we're no longer at a stage where we can feel comfortable just to give good teams a scare. Let's chalk it up to an afternoon of lessons learnt for lesser lights, celebrate that nobody died of heatstroke and be thankful that they didn't find the team bus up on bricks.
Paul Prymke Plate for Pre-Season Performance
5 - Clayton Oliver
4 - Angus Brayshaw
3 - Christian Salem
2 - Christian Petracca
1 - James Harmes
Apologies to Fritsch, JKH, Weideman and Keilty for his surprise second half rucking cameo.
Leaderboard
All to play for with pre-season game to go. Here I was thinking that the extra game would help clear out the leaderboard but instead if none of the top four poll we're a chance of the biggest tie in Demonblog history. We're getting extra plates shipped from the Selangor Pewter factory just in case.
5 - Angus Brayshaw, Max Gawn, Clayton Oliver, Christian Salem
4 - James Harmes, Braydon Preuss
2 - Christian Petracca
Media Watch
If I'm not going to be able to do Crowd Watch every week, then this will have to do as an alternative. With your hosts, Stoned Huddo and Normal State Dwayne.
It was one of the least baffling appearances by Dermott Brereton in recent years, obviously warming up to a big season of knowing what he's talking about but not being able to explain it in under 4000 words (which is sort of like this blog, except I don't know what I'm talking about). But what's his connection to Richmond's Jack Ross? He talked about him like he'd just bought stocks and was trying to run a
Wolf of Wall Street
style pump and dump scam.
The man who once
violently defended the honour
of Craig Nettlebeck's dog has form for working personal causes into his media work. This includes one of the most insane 10 minutes of radio ever when some private schoolkid was accused of racism and Derm hijacked a segment that had absolutely nothing to do with schoolboy footy to put over what a great the kid the accused was and all but publicly say the accuser was lying. For all I knew (or cared) he might have been spot on, but it was a shameless use of valuable airtime (well, SEN airtime anyway) to advance a personal cause. Insane actions by media personalities may be all that gets me through this season so bring it on.
Coming This Week
1) An AFLW match review
2) The latest arriving season preview of all time. At least it will take into account the 10 week recovery period for Mitch Hannan after some mystery surgery that nobody knew about and Keilty now being a ruck medal contender.
Next Week
Brisbane at Casey next Saturday afternoon. Fat chance I'm going all that way but will be watching live on TV. Send your Crowd Watch comments to the usual address. I rate the Lions to be at least mid-table this year, but without knowing how many of our absent players are going to come back I still think we should win comfortably. It will be the debut of Steven May, which together with horrific memories of playing for the Scorpions might send Stefan Martin running straight back out the door towards Cranbourne.
Final Thoughts
Conceding 113 was not welcome, but we lost that with our second string defence but kicked 101 against a premiership lineup who held our spearhead quiet. Losing is rubbish, and it didn't feel we should have got so close but I'll take it.