The last thing we need is an injury crisis. I'm aware that one player hurt doth not a crisis make but you say that enough times and the next thing you're scraping the bottom of the ladder, playing for draft picks and changing your name to Fitzroy 1996.
Quoth -
Melbournefc.com.au
Melbourne's star young defender Jared Rivers has been sidelined by a fracture in his hand, and will miss the Demons' Wizard Home Loans Cup quarter final against Carlton this Sunday.

The 2004 National Rising Star winner was diagnosed with the fracture after being x-rayed following Melbourne's 45-point defeat of Brisbane in Cairns last Saturday when he was among the Demons' best players.

Rivers, 20, completed some training with his teammates at Sandringham Oval on Tuesday morning, but wore a bandage over his injured right hand.
Or am I just seriously over-reacting?
The club described the injury as a small fracture that would require a week's layoff.
The answer is almost certainly yes.
Meanwhile the search for a second-rate Broadbridge replacement continues (from the same article)
Former Bomber and Tiger midfielder Justin Blumfield and ex-Hawk defender Kris Barlow have already been interviewed by the club, and though coach Neale Daniher wouldn't confirm it on Tuesday, it's widely believed the third candidate is recently-delisted Hawk utility Adrian Cox.

"We had a chat to Kris and Justin. We'll have a chat to maybe one other and we'll just go through a process probably of having a look at them, getting them medically assessed and hopefully get a look at them on the track," Daniher said.

Daniher said the club wasn't favouring any type of player, but the decision needs to be made within four weeks, prior to opening round of the home-and-away series.

"We'd like to do it as quickly as we can and with that, the decision may be that we don't take anyone."

"It could be that we've decided that we may want to just keep promoting our younger players. It might be a financial consideration as well, we're not flush with funds at the moment."
Am I a terrible person if I'm not wildly excited about a bunch of AFL rejects trying out to take their rightful place in our reserves side? I'm aware that occasionally players will come back from nowhere and end up being a success (Josh Mahoney etc..) but I'm not taking the threat seriously this time. Besides we all know there's only one man who can save the Melbourne Football Club now...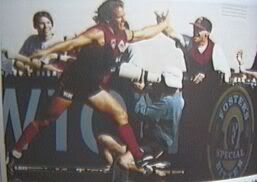 Join the "Re-draft Jakovich" campaign immediately. Rally at the State Library, 4pm today.